"And when do you collect the CO2?" – An experience report
Why do climate protection projects in the Global South make sense? Stefan Wagner reports on this in a personal contribution. Together with myclimate and the WWF, he traveled* to several climate protection projects that we support with Sports for Future and with many stakeholders and associations. These include a conservation project in the Yaeda Valley in Tanzania and a project in the last remaining rainforest in Kenya.
In addition to the audits by external auditors, the checks of certificate issuers and the internal due diligence, the visits are part of the quality assurance of organisations such as myclimate.
An experience report on the meaning of climate protection projects in the Global South.
"Indulgent trading", "global justice", "bridge to avoidance" or "greenwashing" – buzzwords that often come across in the debate on the topic of "climate offsetting".
But how useful is it really to create a positive footprint somewhere on the planet to compensate for one's own negative on the ground?
In September 2022, we visited East Africa ourselves to get an idea of the projects we supported together with employees of myclimate and the WWF. The trip took us through Tanzania, Kenya and Uganda with a total of three projects that we support as Sports for Future, as well as another in Kenya, which is supported by TSG Hoffenheim:
Protection

of

Tanzanian

forests

for

indigenous

people

,

wildlife

and

climate

(

project

partner

myclimate

)

Reforestation

of

the

Chepalungu

Forest

in

Kenya

(

WWF

)

Less

deforestation

of

the

rainforest

thanks

to

efficient

cookers

in

Kenya

(

myclimate

)

Small

farmers

reforest

forests

in

Uganda

(

myclimate

)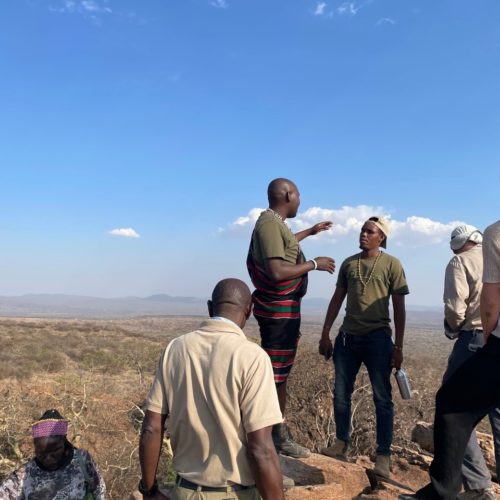 Forest protection area in the Yaeda Valley in Tanzania
Our first stop: Tanzania. Southeast of the Serengeti is the region around Lake Eyasi and Yaeda Valley. The area is far enough away from the hotspots of safari travelers and thus has its own fascinating and very rural character. Here live the "Datoga" and the "Hadza", traditional tribes who have not yet adapted their way of life to the temptations of our world.
For the Hadza, who still number about 1,600 people, the concept of storing supplies is unknown. They go hunting with bow and arrow every day, they collect fruits, roots or honey and otherwise sit quite relaxed by a small, blazing fire ahead of them. In the past, they were repeatedly expelled from their homelands, for example by the Maasai.
The forest protection project, carried out locally by Carbon Tanzania, covers a total area of about 110,000 hectares. It is by far the largest project in the country. We have protected 6,000 hectares of this with funds and donations from Sports for Future. In concrete terms, the local communities define those places that may be inhabited, protected and managed, as well as those that remain completely untouched. For this purpose, financial resources are made available, which can be used at one's discretion, for example for schools or health facilities. People are hired as rangers to ensure compliance with the areas. In addition, land rights are secured, including those of the Hadza – for the first time in their long tradition. And when you walk with them for a few hours through their territories, you get a hint of how valuable this is and how far-sighted the way of life, which may seem to us to be backward, really is.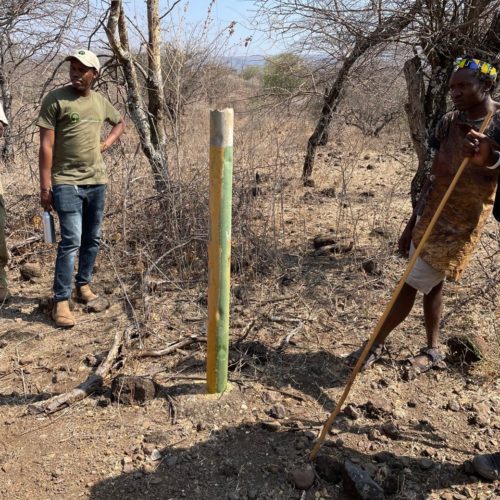 Reforestation of Chepalungu Forest in Kenya
Our route took us through the breathtaking Serengeti to an area north of the Masai Mara, the Kenyan part of the Serengeti, to the Chepalungu Forest. In 2008, a 5,000-hectare forest area was completely destroyed in the course of political unrest. As a result, tributaries of the Mara River, the only water source of the Mara Serengeti in the dry season, dried up here, food for cattle herds disappeared, and devastation threatened. At the request of the local population, the WWF has started reforestation. 350,000 trees have already been planted, and about 40,000 trees have been made possible by Sports for Future. In addition to the positive climate impact, this project is of great importance for the micro-climate as well as for the preservation of this adjacent unique nature reserve.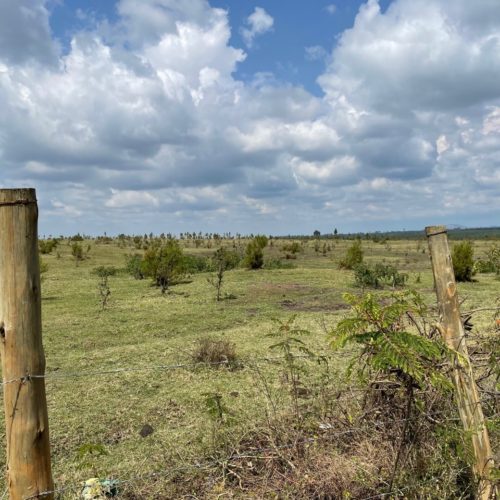 Efficient cooking program in Kenya
The next stage: a project to protect the Kakamega rainforest. This rainforest is Kenya's last remaining primeval forest and is home to an immense diversity of unique and endangered animals and plants. TSG Hoffenheim compensates 3,000 tons of its own footprint by subsidizing efficient cookers. Traditionally, cooking is done on three-brick fireplaces, where a lot of heat is lost and which therefore have a high demand for firewood. Thanks to the more efficient cookers, this requirement is reduced by about 50%.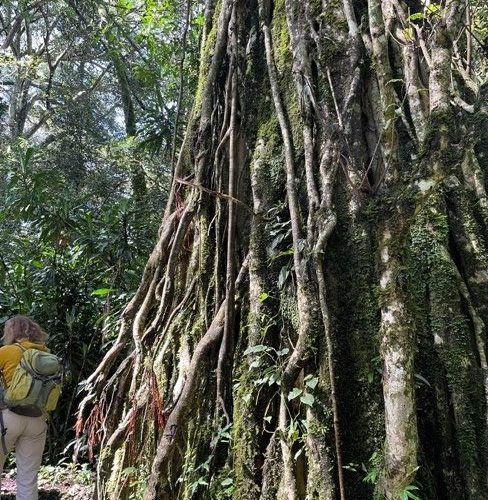 Other accompanying benefits:
less

smoke

in

the

huts

,

with

a

much

more

positive

effect

on

health

;

income

opportunities

often

for

women

in

the

production

and

installation

of

cookers

,

less

time

spent

collecting

firewood

(

often

by

children

)

and

thus

more

time

for

the

children

to

be

able

to

go

to

school

.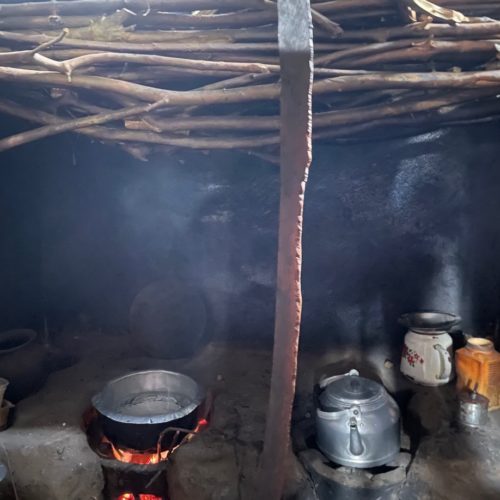 Smallholder project in Uganda
On foot we crossed the border from Kenya to Uganda. Immediately it became noisy: a music truck, accompanied by honking mopeds carrying Ugandan flags, randomly passing through the streets. Uganda has a special spirit, a captivating atmosphere with lots of music and dancing. Via the capital Kampala we drove to Hoima, near Lake Albert in the west. This is where the new EACOP pipeline, which will deliver oil through Tanzania to the port of Tanga in Tanzania, originates.
Thousands of small farmers live here, of whom up to 21,000 will be involved in the afforestation project of myclimate and Ecotrust as local NGOs. On their average plot of about one hectare, they use part of it for planting forest patches, some of which combine to form corridors for wildlife between once connected forest areas. About 40,000 tree plantings were realized via Sports for Future and the Climate Ticket of TSG Hoffenheim.
During a visit, one of the small farmers asked when we would pick up the CO2 we had bought. Of course, this sounds a bit funny and "uneducational" at first. This, however, quickly became relative in a special way. He then apologized for the condition of his simple hut. For him, he said, it was important to buy five chickens and three goats from the proceeds of the project and also to be able to send his 14 children to school. He never visited them himself.
At that moment, at the latest, it became clear to us that our evaluation standards were far from sufficient to classify such projects. The term "climate protection project" does not do justice to them at all. It is also always about improving the living conditions of the people on the ground.
Finally, we visited a group of women who run a nursery for these small farmers. Among other things, they reported on how much the issue of "domestic violence" has improved, because the afforestation project offers them a perspective in many ways. At home, people would laugh and sing more than before.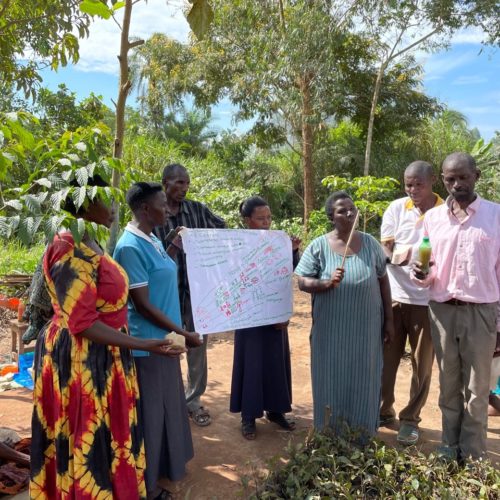 And then they talked about their fear. That all their work, the planted trees and their community could be destroyed by possible accidents in the course of the EACOP pipeline. A pipeline that, like the climate crisis, is primarily linked to our way of life. . .

Stefan Wagner

*:

Note

in

y

our

own

matter

:

No

donations

were

used

for

the

cost

of

the

trip

.