As a sports community, let's show what's possible together. One for all, all for the climate. With every donation, new trees are planted. Find out here transparently what your monetary donation achieves.
Offer climate tickets, e.g. one euro for a new seedling! Take on a sponsorship – for a school forest, a project, with a team challenge! Be a brand ambassador. Share our content. Use our tree donation box to display at your ticket office, you food trucks or fan shops. Develop individual actions with us. Create a challenge with other clubs.
If you have your own ideas or if you want to become a supporter, you can always contact us by e-mail:
If you want to donate directly via bank transfer:
Volksbank Lohne-Mühlen eG
Sports for Future e.V.
IBAN DE94 280 625 60 000 711 2900
BIC GENODEF1LON
Garanty:
100% of the donations are going directly to our Sports4Trees projects!
For your donation you will receive a certificate for yourself or to give away. To do so, enter the term "gift" and your e-mail address in the "Message" field of PayPal or in the "Purpose" field of a bank transfer. You will then receive a certificate by mail, which you can print out, fill out and give to your loved ones. With this action you support the Sports for Future project "Reforestation of the Chepalungu Forest" in Kenya.
Would you like to place our tree money box at your events and in your facilities? Order them free of charge via info@sportsforfuture.de.
100% of the collected donations are going directly to our partner projects.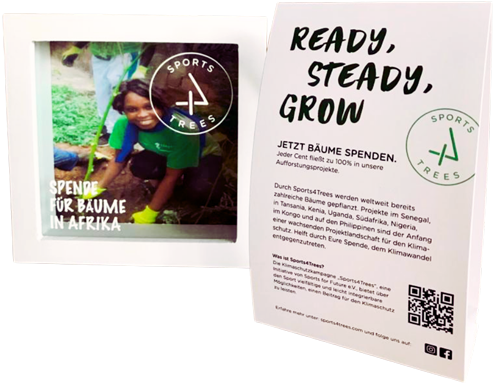 You can purchase:
Sport shirt von CONA (made of 100% recycled DRYPOWER Evolution Mesh, sustainably produced micropolyester, breathable and quick drying), printed by our partner Sport Böckmann with the Sports4Trees logo – 20€ (incl. 5€ donation for S4T to plant trees)
The sports shirt is available in men's sizes XS to XL and women's sizes XS to XL. Order by mail to info@sportsforfuture.de.